Baubap, a Fintech application for online loans, joined Rocket Lab to get a large base of users who could apply for a loan application and gain their loyalty.

Baubap is the first mobile microcredit platform in Mexico that grants instant credits through its Android app 24/7, without credit bureau review, without paperwork and completely hassles.
At Baubap they bring people closer to their financial goals every day. They understand that life can be unpredictable and that sometimes we need support. For this reason, they offer a simple and accessible solution that allows you to obtain loans and service 24 hours a day, 7 days a week, from your cell phone, without consulting a bureau.
Goals of Baubap
The main objective was to achieve a large user base that managed to apply for a loan application from the app, in other words, to get "approved loans for users".
Its secondary objective was to ensure that users get educational support from the app through its financial education program "Aprende". In this way, the aim was to retain the users over time with a communication plan aimed to meet the financial goals of users in Baubap.
Solution
To achieve and exceed Baubap's objectives, Rocket Lab applied its "Performance Playbook" by applying the best marketing practices on the appropriate platforms; it was in charge of the comprehensive planning of the communication and acquisition strategy and finally, it worked together with the client giving data-driven recommendations for continuous improvement of the app's conversion funnel.
Results of the campaign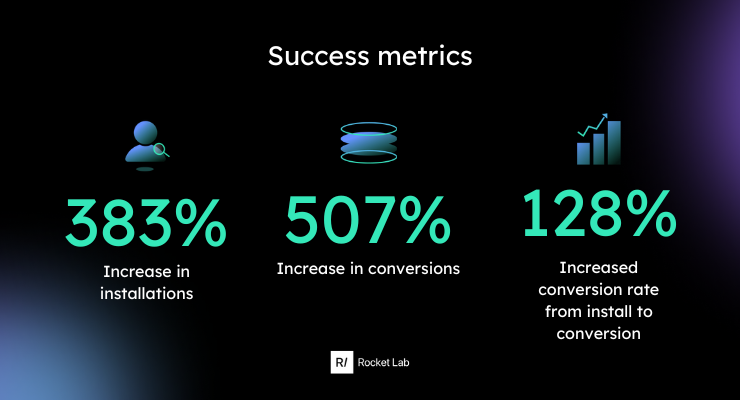 In 7 months of working together, we saw a 383% increase in install rates and a 507% increase in conversations. Also, the conversion ratio of installations to conversions also increased, from 14% to 18% in this period.

Finally, the investment in the platform was increased by 560% and thanks to the best practices in performance, the CAC was kept under control with a marginal increase of 10%.
"Thanks to the joint work with Rocket Lab, we managed to scale our paid channels in 7 months with a controlled CAC, Rocket Lab was the key ally in our growth."

Andrea Martínez - Mkt Project Manager at Baubap.